---


Some of us had never celebrated Thanksgiving before. Now we were to celebrate Turkey Day in its correct environment: the USA! We didn't really know what to do, so we decided to call in the expertise. We got party experience, dried apricots and Boston beer from Erik-the-half-a-Swede, Rob brought turkey roasting experience, Alvaro brought entertainment and cleaning abilities, Kristin brought recipes for American dishes, Sigbjørn brought Port and third place in Ithaca's 1st Annual International Rock Skipping Championship while Hild stole a pumpkin pie recipe off the internet. The food was in focus – as will become clear as we collate the historical recipes for future generations.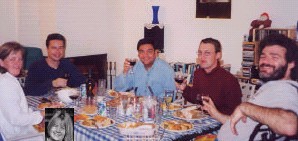 Before we get to the calories...
Prior to 22 November the weathermen warned us of snowy conditions for the arrival of our party participants. Knowing how suddenly the weather turns bad in Ithaca the hosts (Rob and Hild) chose to pass the warning on to the travellers (Kristin, Alvaro and Erik). In fact the bad weather came through a day early so Kristin and Alvaro made it to Ithaca almost without any precipitation. The trip from Denver did include a stopover in Cleveland and a bumpy ride onwards to Buffalo – in the tiniest jet ever built, we've been told. Erik, also had minimal weather related problems during the six-hour drive from Rhode Island to Ithaca. Both parties did get to battle it off with Route 13, which has this nasty habit of turning north to south and south to north in addition to turning into a one-way street and spawning off a 13a – just to confuse a few more poor visitors. Sigbjørn had an easier time as he only had to make it from Cornell to Townhouse 7C in time for turkey.
Kristin and Alvaro arrived one day early and occupied the real guest bedroom. Erik, arriving one day too late, had to settle for an air mattress in the basement office. None of them complained about the accommodation – they knew better of course. Sigbjørn was out of danger as he has his own safe house away from 7C...
Read on to see the recipes we gathered. No doubt they will be very much sought after from now on in. All the food was not consumed exclusively on the 22nd of November. There were also a few more people involved in the actual consumption. It's true! We're not complete piglets, you know! (I think...)
---
The Solid Stuff:
Pumpkin Pie (a la www)

1 9 inch single crust pie case
1 (14 ounce) can sweetened condensed milk
2 eggs
1 (15 ounce) can pumpkin puree
1 teaspoon ground cinnamon
½ teaspoon ground ginger
½ teaspoon ground nutmeg
½ teaspoon salt
¼ cup packed brown sugar
2 tablespoons all-purpose flour
1 teaspoon ground cinnamon
2 tablespoons butter, chilled
1 cup chopped walnuts


Directions:

Separate the eggs, and beat the whites until fluffy
In a large bowl, mix the pumpkin, egg yolks, cinnamon, ginger, nutmeg, salt and sweetened condensed milk until smooth. Gently fold in the egg whites. Pour filling into crust.
Bake at 425 degrees F (220 degrees C) for 15 minutes. Remove the pie from the oven, and reduce the heat to 350 degrees F (175 degrees C).
While the pie is baking, prepare the streusel topping. Combine the flour, brown sugar and cinnamon. With two knives or a pastry blender cut in the cold butter until the mixture is crumbly. Mix in the chopped nuts. Sprinkle the topping over the pie. Return the pie to the oven, and bake an additional 40 minutes or until set.
Serve with Pistachio Salad and Cornell Vanilla Ice-cream




---



Sage and Onion Stuffing (a la Rob)
If you can buy Paxo sage and onion stuffing do so and prepare as indicated on packet with extra sage. If not – read on....

One large (or two small) brown onion(s)
Lots of rubbed sage (2 tablespoons)
Bread crumbs (2 cups)
Butter


Directions

Finely chop the onion(s)
Fry onions in butter until soft
Add sage
Add bread crumbs
Remove from heat and add boiling water to make a stiff paste
Roast either in the turkey - or - in a roasting dish for ¾ hour at 400 degrees F.




---



Apple Sauce (a la Rob)

3 large 20 ounce apples from Wegmans
1 cup of sugar (brown does nicely)
salt


Directions

Peel, core and slice apples thinly into a pan with cold, salty water
When the apples are peeled, drained the water and place pan over low heat
Allow the apples to cook down slowly. This takes time
Once apples start to collapse, add sugar to taste
Stir well or mash until smooth
Serve, but don't eat all of it - so that you can make apple crumble the next day/week




---



Roast Turkey (a la Rob)

One 17 lb frozen turkey (keep in fridge for 3-4 days until properly defrosted).


Directions

Preheat oven to 425 degrees F
Take the giblets out of the turkey
Put a quartered lemon and a quartered onion inside the turkey
Optional: Put some stuffing in the neck or inside the whole turkey
Shake roasting bag with 1 tablespoon of flour inside it
Put turkey in the bag
Roast turkey in the oven for 45 minutes
Turn oven down to 325 degrees F
Roast turkey for 3.5 hours
Take turkey out and leave it for ½ to 1 hour to settle before carving and serving.
Pour off the meat juices into a pan, allow to cool and remove fat from surface – to be used for gravy




---



Roasted Potatoes (a la Delia via Rob)

Enough potatoes
Vegetable Oil


Directions

Preheat oven to 400 degrees F
Pour some oil into roasting pan in oven
Peel and cut potatoes to even size
Add boiling water
Boil for 10 minutes with 1 teaspoon of salt
Drain and keep water for gravy.
With lid on pan, shake gently to roughen the surface of the potatoes
Pour potatoes into hot roasting tin
Turn over potatoes to coat them with oil
Place back into oven for one hour
Serve




---



Gravy (a la Rob)

Meat juices from turkey
Water from boiled potatoes
Corn flour


Directions

Bring meat juices to boil
Add potato water to taste
Mix 2 table spoons of corn flour with cold water – add to gravy while stirring
Bring to boil, add more corn flour if it isn't thick enough.




---



Sweet Potato Casserole (a la Donna Howe via Kristin)

3 cups sweet potatoes, cooked and mashed
1/3 cups milk
½ cup "aleo" – the mystery ingredient which we couldn't decipher. Added butter instead.
1 cup white sugar
2 eggs, slightly beaten
1 teaspoon vanilla

Topping

1 cup light brown sugar
1/3 cup butter melted (or crumbled by hand with sugar)
½ cup plain flour
1 cup chopped (wal)nuts


Directions

Mix & pour into buttered casserole
Mix topping with fork and sprinkle on top of casserole (save some topping for an apple crumble the next day
Bake uncovered at 350 degrees F for 20-30 minutes




---



Cornbread (a la Quaker Yellow Corn Meal box) – 9 servings

1.25 cups all-purpose flour
¾ cups corn meal
¼ cup sugar
2 teaspoons baking powder
½ teaspoon salt (optional)
1 cup skim milk
¼ cup vegetable oil
2 egg whites or 1 egg, beaten


Directions

Heat oven to 400 degrees F
Grease 8-9 inch pan
Combine dry ingredients
Stir in milk, oil and egg
Mix until dry ingredients are moistened
Pour batter into prepared pan
Bake 20-25 minutes or until light golden brown (wooden pick inserted in centre comes out clean)
Serve warm.




---



Pistachio Salad (a la Trudy Thomson via Kristin)

1 box pistachio instant pudding
1 large can crushed pineapple
1 cup mini marshmallows
1 cup cool whip


Directions

Mix package of dry pudding with un-drained can of pineapple
Add marshmallows & cool whip. Mix
It's ready to serve with pumpkin pie and Ice-cream (Americans eat pistachio salad with the turkey. Being way too disgusting we had it for dessert).




---



French Vanilla Ice-cream (a la Cornell Dairy)

Go to the Cornell Dairy store on Tower Road
Go straight to the big freezer at the back
Spend 10 minutes drooling over all the yummy stuff there
Grab the safe vanilla flavoured variety
Pay the guy at the till
Rush home 'cos this Ice-cream melts before you can say "apple crumble"




---



Papas a la Huancayna (a la Kristin)

Potatoes, boiled (peeled) and cut into squares
1 (elephant) garlic, minced
2 bunches of parsley, chopped
Paprika powder
Salted peanuts (dry roasted are good)
Hot pepper sauce (f. ex. Tabasco)
Mayonnaise


Directions

Fry garlic and parsley
Add paprika powder and nuts
Keep stirring
Add hot pepper sauce to taste
Add salt to taste – salted peanuts is normally enough
Mix potatoes, peanut mixture and mayonnaise




---



Sunday Morning Pancakes (a la Rob) – serves 5 people

15 ounces plan flour
1 teaspoon salt
5 eggs
milk


Directions

Break eggs into flour
Add enough milk to mix to a stiff paste
Beat until smooth
Add more milk and mix to a pouring consistency
Heat frying pan over medium heat
Spray pan with oil
Pour in batter to just cover the pan
When it is set, flip pancake and fry for another two minutes – till finished
Transfer to plate and keep warm in oven while you cook the rest of the pancakes
With little batter left, dribble batter into pan to make animals (see snowman-illustration)
Serve with maple syrup, honey, butter, sugar and jam.




---



Apple Crumble (a la leftovers from apple sauce and sweet potato topping)

Left over apple sauce
Left over topping from sweet potato dish


Directions

Preheat oven to 400 degrees F
Pour cold apple sauce into oven proof dish
Spread topping over the top
Bake for 20 minutes until it's brown on the top
Serve with Cornell Vanilla Ice-cream
---
The Good Stuff:
Spirits

Linie Aquavit (for that indigestion)
Martinis (a la Rob) – 4 glasses

2 measures of Gin
1 measure of extra dry Vermouth
3 drops of Angostura aromatic bitters
1 strip of lemon peel per person
Mix all ingredients and keep in freezer until cold
Serve in cold glasses

Port (a la Sigbjørn)
Irish Cream (a la St. Brendan's via Alvaro and Kristin)
---
Wine
Chilean Cabernet Sauvignon – Walnut Crest
Another Chilean Cabernet Sauvignon – Chateau La Joya, Bisquertt
Late Harvest from the Finger Lakes
---
Wine touring along Seneca Lake (purchases for future use)
Lakewood
Arcadian Estate Vineyards
Woodbury Vineyards
Seneca Shore Wine Cellars
---
Sam Adams Winter Brews (a la Boston via Erik)
Saranac Beers (a la New York State via Rob and Wegmans
Diet Sprite and Diet Coke (a la most shops)
Freshly Squeezed Apple Juice (a la Wegmans)


The Party People

November 2001
---